For those of you who have been bored with your plain old idevice backgrounds, you'll be happy to hear about an awesome new jailbreak tweak that has just been released on Cydia, bringing live wallpapers to your iOS device. Developer Porkholt Labs promises that his new LivePapers tweak is exactly what we've all been looking for, with battery efficiency and support for all of our favorite devices.
With any tweak like this, you can be sure that the battery life will definitely be affected. However, the developer has optimized the app to be as efficient and smooth as possible. Furthermore, after about 40 seconds of inactivity, the animations freeze to save even more battery life. You can simply resume the animations by swiping to a different page on the springboard. While we haven't tried the tweak out for ourselves yet, ModMyI confirms that the animations are just as smooth on an iPhone 4 as on an iPhone 5.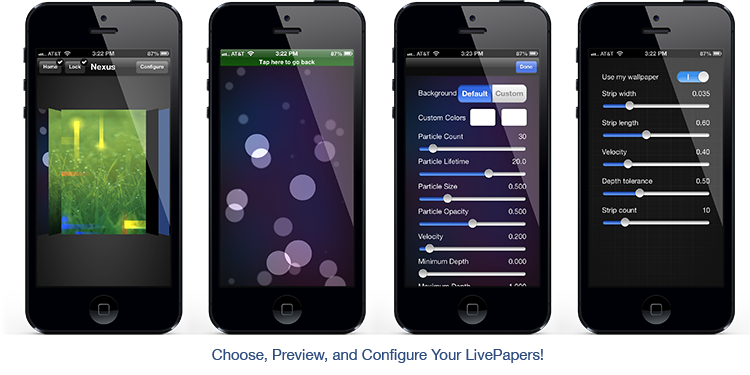 The app comes with a home screen icon where all of the configuration options are available. LivePapers originally only comes with one animation (the bubbles animation) to apply to your homescreen, lockscreen, or both. However, more options are available to purchase on Cydia for $0.99 each. Also, the app will accept add-ons from different developers. So designers can submit their own animations to Cydia and have them work with LivePapers!
You can head over to the BigBoss repo on Cydia now to grab the amazing tweak for free. It supports all iOS devices from firmware 5.1.1 and up. Check it out and let us know what you think!
Make sure to look around the forums to see how other users are modding and tweaking their idevices! Also, you can check out our Theme Browser and App Reviews page to see what's hot in Cydia right now. Follow us on Twitter, like us on Facebook, or add us to your circles on Google+ to be the first to hear about breaking iPhone news, tips, hacks, and more!