Custom ringtones are something all of us iOS users desire over the basic built-in ringtones. However, Apple's tight grip on the platform has made the process of using our favorite songs as ringtones a bit of a headache. Of course, buying ringtones from the iTunes store is one solution, but why pay for a song that you already have? You can also create a ringtone using iTunes manually but why waste your time trying to learn how? Team Cocoanuts has just released an awesome new Cydia app named Rinngo that will make the whole process a breeze…
Creating custom ringtones on your idevice has never been so easy. In order to use the app, simply find a song in your music library that you want to turn into a ringtone, hold down on it and an Action Menu will pop-up showing the new Rinngo button.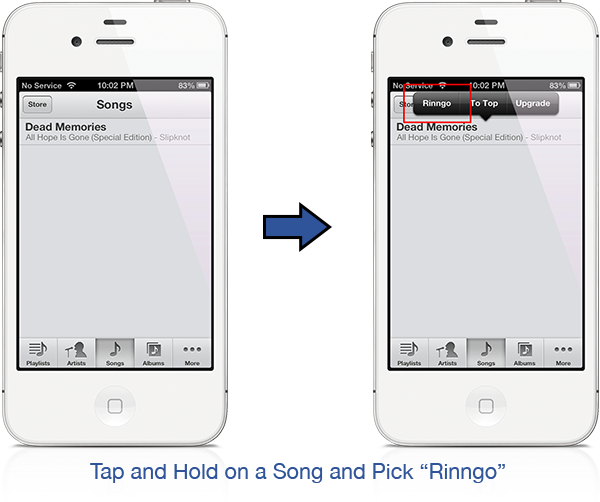 Tapping the button will take you to the app's impressive interface, where you'll be given the tools to turn your favorite song into your next ringtone. You can use the sliders on the scrubber bar to crop the song and choose where you want the tone to start and end (we recommended that you keep the ringtone less than 30 overall seconds). Saving the ringtone will store it directly in your ringtone preferences pane in the Settings.app, where you'll be able to apply it and enjoy!
Unfortunately, the app does not work with Spotify and other music services as it uses the songs in your stock music player app. The app will also run you $4.99, but than again, it's still a much better option than purchasing a bunch of ringtones from iTunes.
You can head over to the BigBoss repo now to pick the app up and start making your own custom tones! Check it out and let us know what you think in the comments section below.
Make sure to look around the forums to see how other users are modding and tweaking their idevices! Also, you can check out our Theme Browser and App Reviews page to see what's hot in Cydia right now. Let us know how it goes!
Make sure to follow us on Twitter, like us on Facebook, or add us to your circles on Google+ to be the first to hear about breaking iPhone news, tips, hacks, and more!