The folks over at TechRadar have put together an interesting little video of what they think the new iOS 8 may look like. The video shows off rumored new apps like Preview, TextEdit, Tips and more. They also mention that the new iOS may be "perfectly tailored for the iPhone 6." Unfortunately, the iPhone 6 mockup used in the video is missing a home button on the bottom of the device, and while I actually prefer it that way, it is highly unlikely that Apple will get rid of its new TouchID button.
Thus, you should probably take the concept with a grain of salt. Check it out and let us know what you think:
Follow us on Twitter, like us on Facebook, or add us to your circles on Google+ to be the first to hear about breaking iPhone news, tips, hacks, and more!
---
Earlier today, leaked screenshots appeared on a Weibo account, showing off what might be three new apps that Apple is working on. Spotted by 9to5Mac, the screenshots are apparently of Apple's upcoming iOS 8 software, and give us a little peak at what the Cupertino company is working on. As you can see in the picture, Preview, TextEdit, Healthbook, and Tips are all brand new apps that we've never seen before.
---
February 27, 2014 | Emil Kako |
Comments
After only 48 hours of being available, the latest iOS 7.0.6 update reached an impressive 13.3% adoption rate in North America. The update fixes a major SSL vulnerability so it's easy to see why so many people were excited to get their hands on it.
Chitika reviewed over tens of millions of North American ad impressions from February 21st to February 23rd for the study:
---
February 21, 2014 | Emil Kako |
Comments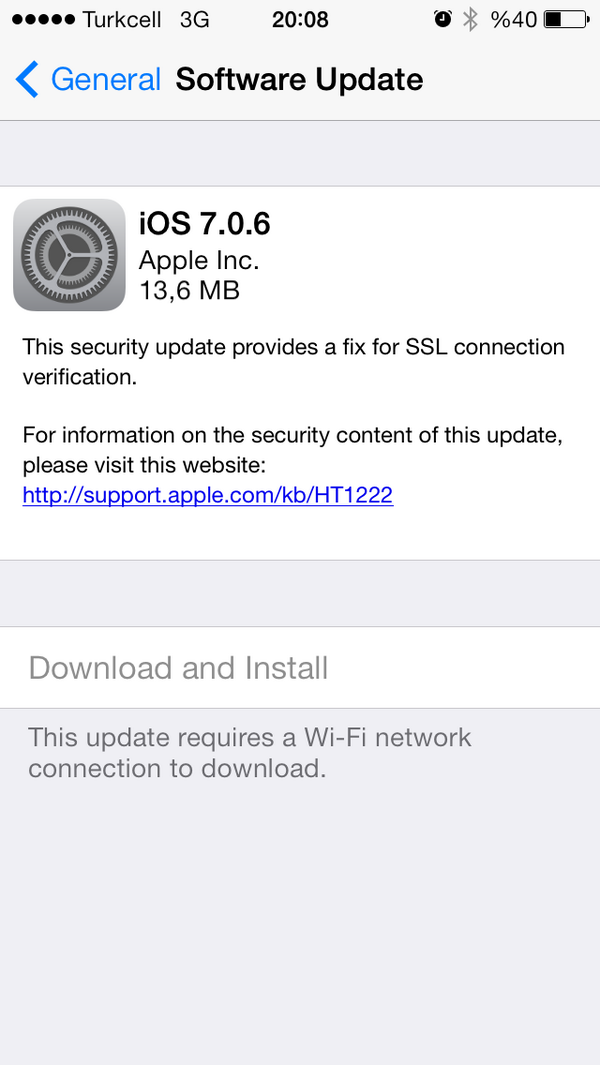 Three weeks after the release of iOS 7.0.5, Apple has just released another minor software update. iOS 7.0.6 (Build 11B651) and iOS 6.1.6 (Build 10B500) for the iPhone 3GS and iPod Touch both bring a number of fixes but are mainly just security updates. Apple specifically notes that the updates include a fix for SSL connection verifications.
You should be receiving the updates over-the-air any time now.
Follow us on Twitter, like us on Facebook, or add us to your circles on Google+ to be the first to hear about breaking iPhone news, tips, hacks, and more!
---
According to a new report from our friends over at 9to5Mac, Apple won't be releasing the final version of iOS 7.1 to the public until some time in March. The software is currently in its fifth beta and available for registered developers to test out, but we won't see an actual release until next month…
---
Two weeks after the fourth beta, Apple has seeded it's fifth beta of iOS 7.1 to developers today, carrying the build number 11D5145e. The software is available to all registered developers via Apple's dev center and is compatable with the iPhone, iPad, and iPod Touch. Head inside for all the new changes in the latest beta:
---
We've definitely enjoyed iOS 7 since it's release here at iPD, but we have to admit that it definitely does have its fair share of problems. While some of us have had a fantastic experience, others have had their idevices plagued with constant crashes. It's been incredibly frusterating, but Apple has just promised us a fix.
Today, Mashable recived an official statement from an Apple spokesperson on the matter, confirming that the company is aware of the problem and working to fix it in the next software release.
---
We were all excited to see Apple seed out iOS 7.1 beta 4 to developers yesterday, but it may actually not be all good news. After digging around in the new software, iH8sn0w has discovered that Apple may have patched the kernel exploit used in the iOS 7 jailbreak...
---