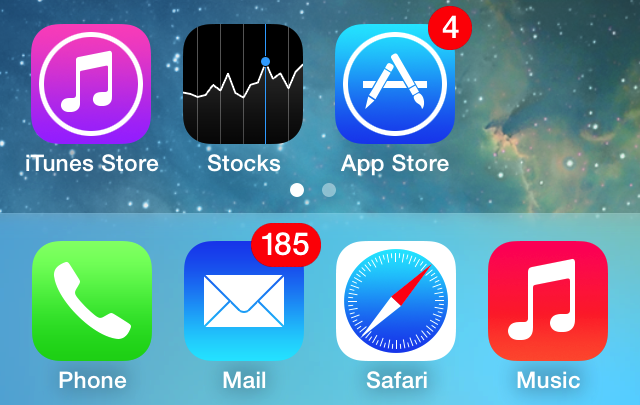 By a show of cursors, how many of you use the Newsstand app? Hmm, I see. I don't care for it much either. I'm sure we all have that one particular folder that contains are rarely and never used apps that were pre-installed by Apple. Fret no more my friends because a glitch has been found in iOS 7 to get rid of them!
I'd like to look like the genius here and take credit for finding this trick but I can't. This little disappearing act was discovered by @VBarraquito on Twitter and from what I've experienced by doing it myself, it works fine. There are, however, a few steps you need to take to get it to work. I know, I know. You're probably like, "dude, tell me how to do this so I can make things disappear too".
We first have to set up our home screen correctly:
- The first page needs to be completely full and contain a folder
- Any app you want to hide need to be moved to the dock
The tricky part:
- Tap and hold an app on the dock and immediately double press the Home button
- When the Mulitiask switcher opens, tap on the Home screen preview
- The dock app will be slightly enlarged and darker more than others
- Open the folder that we created earlier then back out of it and press the home button
- The app you've chosen for this process should now be gone.
The app will unfortunately reappear once your device is rebooted but it's still kind of cool. If at anytime you need to access that app it can also be found in a Spotlight search Try to remember that this is just a glitch and will likely be gone by the time the official iOS is released so enjoy it while you can. Nothing good lasts forever.
So who's gonna play Houdini?
Source: AppAdvice
Follow us on Twitter, like us on Facebook, or add us to your circles on Google+ to be the first to hear about breaking iPhone news, tips, hacks, and more!
---
blog comments powered by

Disqus
---