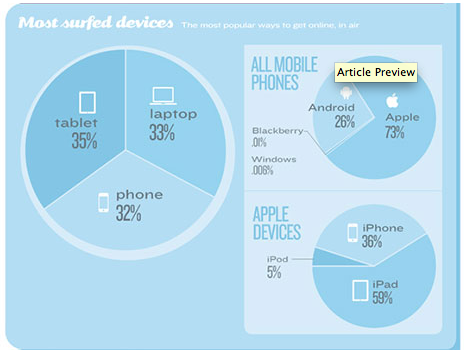 Gogo has just released an interesting new infographic about Internet usage during flights. Smartphones and tablets make up 67% of devices connected to Gogo, while laptops only account for 33%. Furthermore, it appears that Apple is the favorite among most passengers who connect to Gogo:
"Apple devices are still reigning above the clouds, following the tablet trend with the iPad being the device of choice. Among all mobile devices being used to connect through Gogo, 84 percent carry Apple's iOS operating system while 16 percent carry the Android operating system. If you look only at the smartphones our customers are using, the iPhone makes up 73 percent and all Android devices make up 26 percent, with Blackberry and Windows based devices each making up less than 1 percent of devices being used in air."
Here's the full infographic for more details:

Follow us on Twitter, like us on Facebook, or add us to your circles on Google+ to be the first to hear about breaking iPhone news, tips, hacks, and more!
---
blog comments powered by

Disqus
---