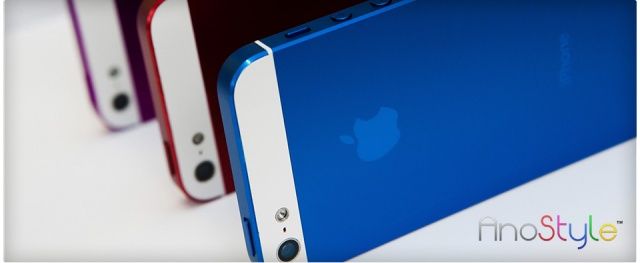 For the past few months, rumors have run wild about the next-generation iPhone coming in multiple colors. We've seen tons of mock-ups and reports, but now, it looks like the rumors may actually hold some truth to them. The Cupertino company has just posted a new job listing looking for an Anodizing Engineer to possibly help add color to the next-generation line of Apple products.
Sources have pointed to the iPhone 5S to be the first iPhone ever to come in colors other than the beloved black and white. Apple may be considering anodizing the back aluminum plate as well as the antenna band on the iPhone, resulting in something similar to the picture above.
Personally, I love the current black and white models, but I'll admit that the different colors in the picture do look pretty darn good. Apple already uses aluminum anodization to add color to the iPod Touch and iPod Nano, so why not bring it to the star idevice?
Considering that the company already has anodizing engineers working on other Apple products, the job listing may also just be an effort to fill a vacancy. But we're hoping that it's not, and that Apple is looking to pull some new talent to bring colors to the iPhone.
Here's the full job description:
· Define world-class anodizing processes that achieve the cosmetic and functional requirements of a part.
· Be a self-starter by defining all engineering tasks to meet project objectives and have the ability to quickly learn about new processes with very little information provided.
· Understand and own the interactions between the alloying elements of aluminum and the anodizing process.
· Knowledge and usage of statistical tools (JMP, Minitab)
· Familiarity with advanced manufacturing processes (Extrusion, Casting, Forging, Welding, CNC machining) specifically in Aluminum and many alloys
· Expertise in surface preparation and advanced surface finishing processes (lapping, polishing, blasting, tumbling, etching, anodizing, PVD) in Aluminum
· Experience with high-quality cosmetic parts
· Provide onsite support at manufacturing sites during development and product production ramp, and drive engineering issues to resolution
· Flexibility to work in a fast paced and dynamic environment
Follow us on Twitter, like us on Facebook, or add us to your circles on Google+ to be the first to hear about breaking iPhone news, tips, hacks, and more!
---
blog comments powered by

Disqus
---