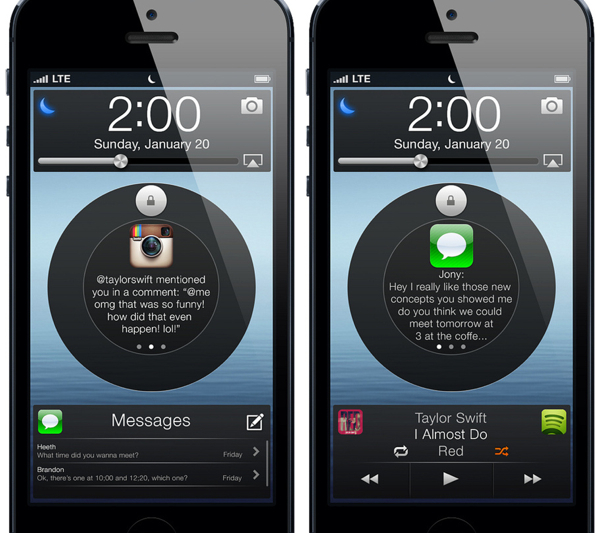 Since Apple hasn't changed the look of the iOS user interface in years, designers have taken it upon themselves to release their own ideas and concepts of how they think iOS should look. Many people just feel that Apple's mobile platform has gotten a little boring, and with an iOS 6 jailbreak still not out, we're kind of running out of options.
The Verge forum user white.noise writes, "You get a time and date, some limited music controls, notifications, and a quick access to the camera app. No widgets, no customization, nothing."
Thus, the user has created some mockups of what an iOS lockscreen would look like with widgets, customization, etc. While the design does look pretty cool and different, it is also somewhat cluttered and reminds us of some Android counterparts. Nonetheless, here's another render: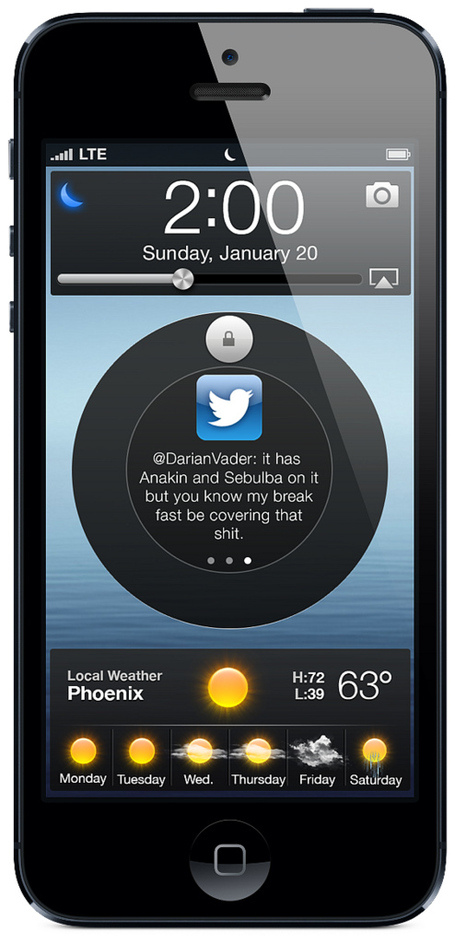 "The first thing you'll notice is that about every inch of space on the lock screen is being used. First, let's talk about how you unlock the device. You'll notice in the center a circle with a lock in the center, just drag that around the circle until your device unlocks [...]
Next, lets talk notifications. Notifications are now displayed in the center of screen (inside the unlock circle) At the top of the circle is the icon of the present notification, and underneath is the context of the notification. [...]
Lastly, let's talk about widgets. Widgets are displayed at the bottom of the screen, there are many type of widgets (I have made 3 concept ones which will be attached at the bottom). Widgets can be interactive, or static."
Personally, I prefer more of a minimalistic design, but I do enjoy having the option of at least some customization. I also absolutely love the widget idea. What do you think?
[source: The Verge via: ifans]
Make sure to follow us on Twitter, like us on Facebook, or add us to your circles on Google+ to be the first to hear about breaking iPhone news, tips, hacks, and more!
---
blog comments powered by

Disqus
---