June 11, 2013 | Brandon Noskoviak - @noskoviak |
Comments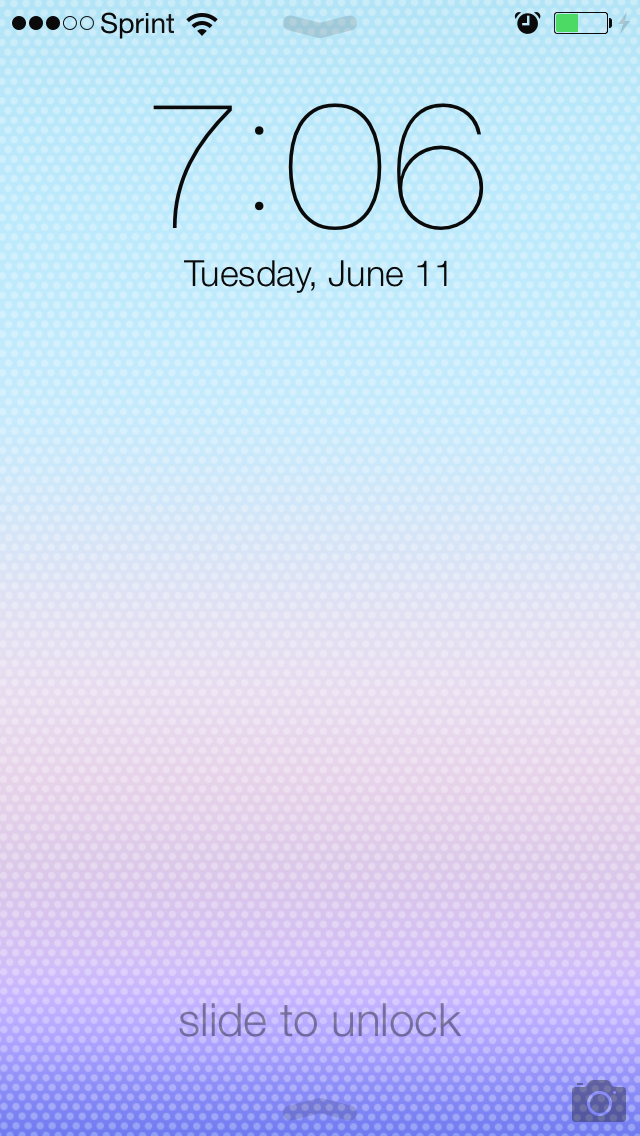 Okay i'm going to go through a list format of tweaks in Cydia you can install in order to emulate the experience of iOS7, now this won't match style wise at all. But i'm going to try and go for matching the functionality of iOS 7, not the look. Okay now down to business... So on the iOS 7 lock screen you can slide anywhere to the right and Unlock and up from the camera emblem to load the camera app. But slide up from the bottom and you bring up a hefty toggles menu. Sliding down from the top and you can bring down your new iOS 7 notification center, right from the lockscreen.
So how to re-create the iOS 7 lockscreen experience? Simple.. install Bulletin and NCSettings. Bulletin will allow Notification Center usage from the lockscreen, and NCsettings will throw a customizable toggles bar into the notification center. Side by side images on the next page, iOS 7 on the top, iOS 6 version on the bottom. It gets everything done. Nearly as much function, in 33% less moves on iOS 6. Im going to say a Cydia tweaked lockscreen beats out stock iOS 7 here. Read on for more Cydia tweaks that are now features in iOS 7.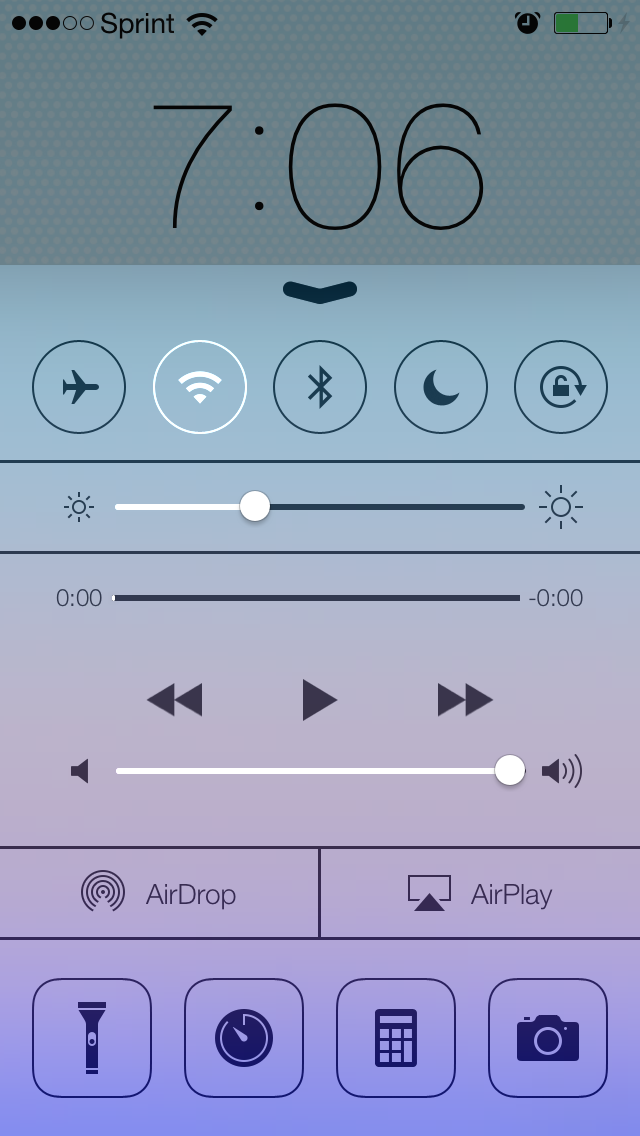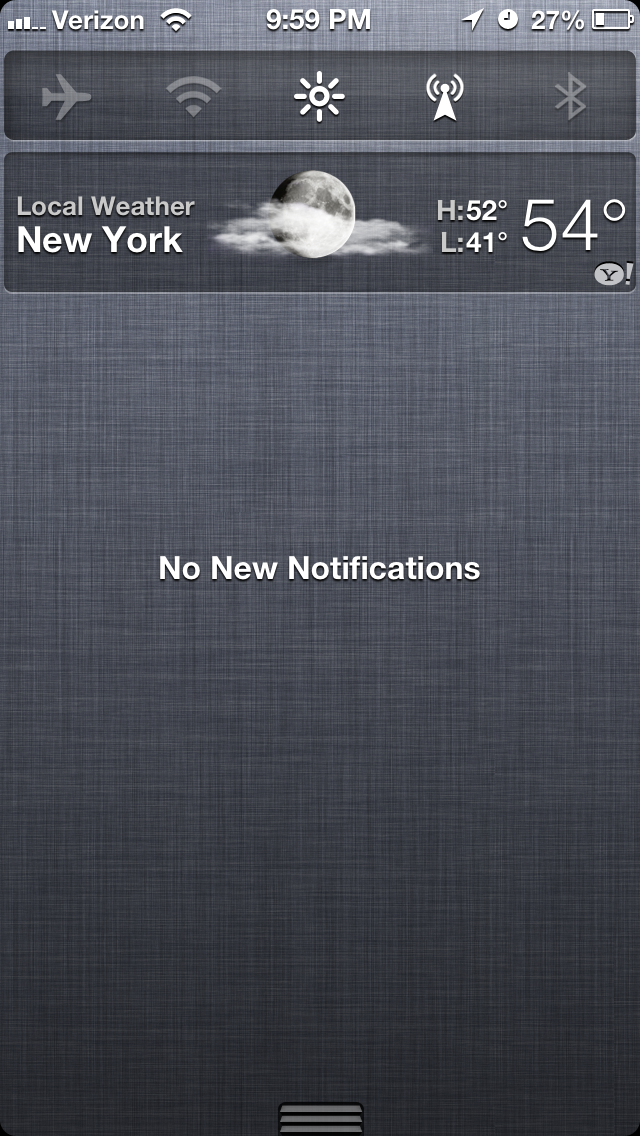 So above you see the two lock screen options, the toggles bar of ncsettings slides left and right revealing many more toggles, it isn't just those five options. AirDrop is only a feature of iOS 7 so until some developer cares to implement it in iOS 6.1.2 that wont be an option. And in 6.1.2 if you want a mini-player for your music just double tap the home button from the lockscreen. As long as you haven't disabled the feature using the Activator tweak, a mini-player will pop up.
Next up lets check out the Home Screen functions of stock iOS 7 and try and recreate that experience on a jailbroken device running iOS 6.1.2. The image below is the new iOS multitasking friendly app switcher. It takes up the entire screen and I actually prefer the iOS 6.1.2 friendly slide2kill more than the stock iOS 7 app switcher.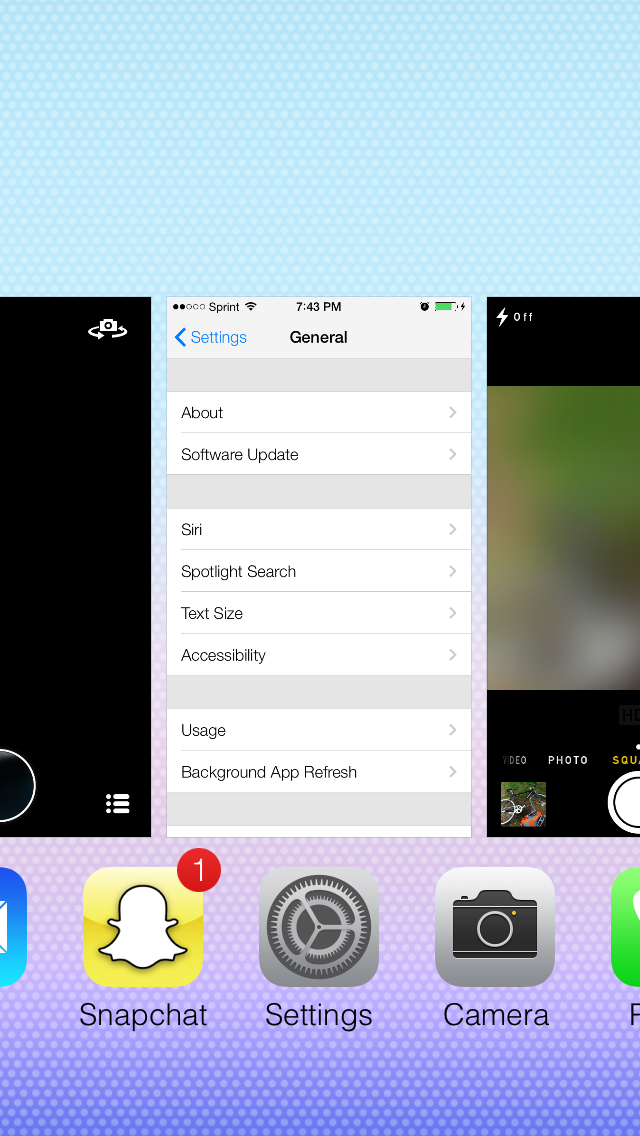 So from the home screen of iOS 7 you can double-tap the home button and open the app switcher, or slide down from the top or bottom of the screen to reveal the system wide available notification center and toggles menu we went over earlier. We already have the ncsettings tweak installed by this time and dont need to go into it again. But as far as app-switcher tweaks go there are two I can recommend. The most popular being Auxo, which has tons of themes to choose from and pretty much doubles as a toggles menu, creating a redundancy between itself and NCsettings, (i hate redunancies). Regardless of redundancies Auxo is great and is on the top in the image below. Underneath the image of Auxo below is my favorite App Switcher tweak and it's called Slide2Kill. Auxo is more attractive, but im more into less baggage, Slide2Kill blends right in with the stock iOS app switcher and like Auxo lets you slide apps out of the switcher panel to kill them. Or via the setting you can kill-all by holding down. You cannot "kill-all" in the iOS 7 app switcher.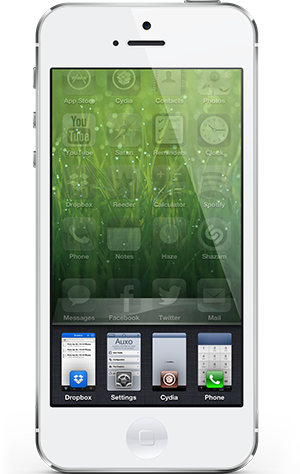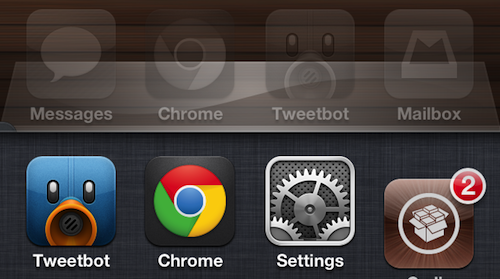 We've covered the two best views of the iPhone thus far, the lockscreen and the homescreen. But what are some tweaks iOS 7 borrowed from Cydia elsewhere. When you're inside an application within iOS 6.1.2, to get back you have to physically hit the "go back" button in the upper left hand corner of the screen in most applications. With the tweak by Ryan Petrich called Swipeback you can go back and forth within applications and menus (anywhere with the option to go back and forth). iOS 7 only implemented the gesture to allow swiping back to the previous location. So again a jailbroken iOS 6.1.2 device is more functional and option rich than stock iOS 7.
Honestly other than that nothing is really that much different from iOS 6.1.2 other than the great theme work done. I sure hope when they release the stable version of iOS 7 this fall they have a "Classic theme" available for the old school iOS fans, I've been reading some angry reviews lately. Anyways, as I notice more cydia tweaks hidden within stock beta ios7 ill be sure to update this article. Thanks for reading hope some of you enjoyed.
Follow us on Twitter, like us on Facebook, or add us to your circles on Google+ to be the first to hear about breaking iPhone news, tips, hacks, and more!
---
blog comments powered by

Disqus
---