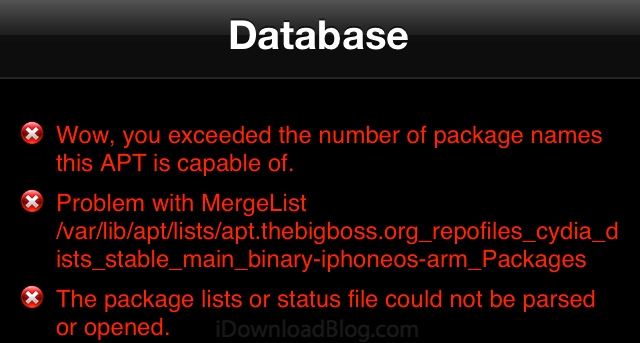 Since the time the iOS 6.x jailbreak (evasi0n) came out I've seen a lot of posts on Reddit and elsewhere on the Internet regarding the "wow, you exceeded the number of package names this APT is capable of" error in Cydia. I've experienced this error a couple of times over my jailbreaking career, you probably have too, but didn't really know too much about what was causing it; though the error text itself gives one a starting indicator. Here we'll walk you through just what this error means and how you can stop it from happening.
Cydia creator, Saurik, tells gives us some insight:
"[Cydia] downloads all of the package listings locally, and then APT consolidates them into a single efficient data structure than can be used even on memory-constrained devices to access the massive wad of packages later. This data structure is only able to store 65K package name entries."
There lies the problem, the number of total packages is capable of hosting. After you jailbreak your device and install Cydia, Cydia already comes with a number of popular sources. These sources contain around 40,000 packages, leaving you with only a space of 25,000 for additional packages. This left over space is quickly filled up by adding a lot of alternative sources (especially in the case of pirate repos), which results in this error.
Now that we've found the root of the problem, fixing it is our next concern; while it may be easy, it comes at a price. You've surely come to this conclusion already: you need to delete some of the sources you've added to free up the limited space provided to you. Hopefully sometime in the future we'll see said space grow.
Follow us on Twitter, like us on Facebook, or add us to your circles on Google+ to be the first to hear about breaking iPhone news, tips, hacks, and more!
---
blog comments powered by

Disqus
---