June 26, 2013 | Brandon Noskoviak - @noskoviak |
Comments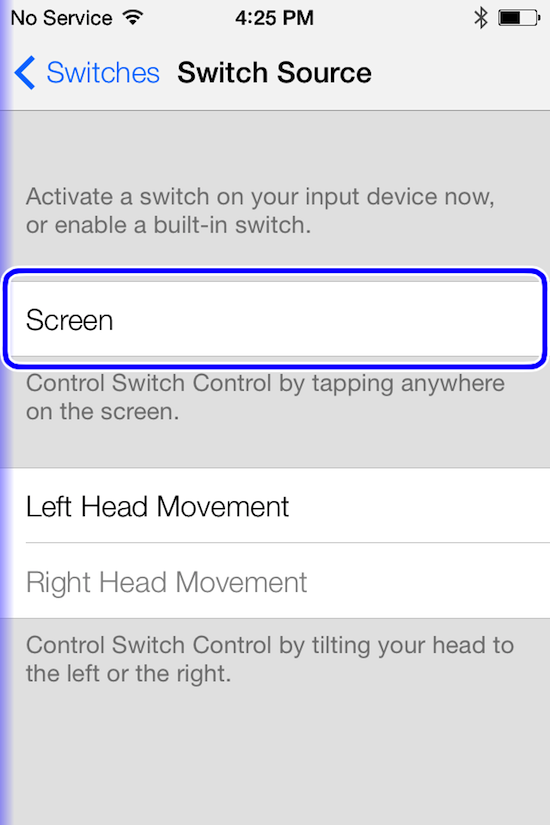 So completely unhidden within the settings are the preferences for head movement gestures. Yep, so now we have blinking, smiling, and head movement recognition built into iOS 7. Glad to see Apple using some features that Samsung already has in their devices. For iPad or iPhone you can use your head to navigate through iOS, I haven't looked at it myself yet so I'll try to explain it the best I can.
Within the Accessibililty settings of the iOS 7beta 2 there is a toggle to enable a new head tracking feature, it's not hidden whatsoever, just follow Settings > General > Accessibility > Switches > Switch Source.
A blue box will carefully make its way around your screen highlighting different buttons and toggles within the page you're looking at. When the blue box lands on the item you're interested in a nod to preselected direction either left or right (currently) will act as a tap, opening whatever UI element was selected by the blue box when you twitched.
It's pretty glitchy right now because it's just beta 2 according to our friends over at idownloadblog, they also say don't expect to see any S4 type gestures anytime soon, as Apple has no public plans for implementing something like that in the works. Who knows though, maybe it will be a newly announced feature of iOS 7 Stable.
Follow us on Twitter, like us on Facebook, or add us to your circles on Google+ to be the first to hear about breaking iPhone news, tips, hacks, and more!
---
blog comments powered by

Disqus
---