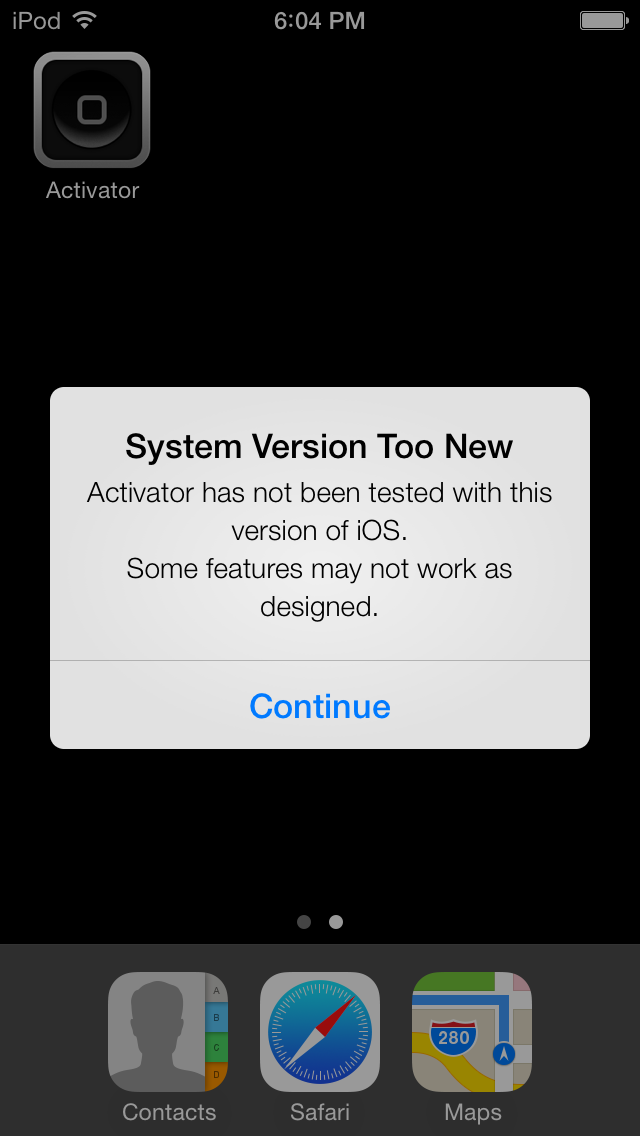 Earlier today jailbreak developer Ryan Petrich posted a tweet of a screenshot of an iPod apparently running a jailbroken iOS 7. The iPod was loaded with one of his jailbreak tweaks 'Activator' showing the message "System Version Too New. Activator has not been tested with this version of iOS. Some features may not work as designed." So how did the dev get his iPod on iOS 7 to run a jailbreak tweak?
Petrich hasn't tweeted anymore information about his screenshot so far, but all of our imaginations are pretty much running wild at this point. Folks over at Reddit are also extrmely ecxited by this new pic and have a pretty goo conversation going on about it; mostly just people chiming in on what they think of the post means.
Certainly, at this point all is speculation and it is hard to verify whether or not if this screenshot is telling us if in fact it is a jailbroken iPod running iOS 7. However, Ryan is a reputable developer and can be a considered a trusted source. Although, many people I am sure would love to see more information, including myself.
Joshua Hill, another iOS hacker reported that great things are coming, which will be "bigger than jailbreaking"." He also tweeted a message talking about 'openjailbreak' getting off the ground.
What does all of this mean? Well, we're not entirely sure, but it is exciting times for the iOS community. Stay tuned for more info.
Follow us on Twitter, like us on Facebook, or add us to your circles on Google+ to be the first to hear about breaking iPhone news, tips, hacks, and more!
---
blog comments powered by

Disqus
---