The moment many of us have been waiting for is almost here now folks. iOS hackers pod2g and the Chronic Dev Team will be releasing Absinthe 2.0 and the untethered jailbreak for iOS 5.1.1 tomorrow on May 25th. The release will take place at the Hack in the Box Security Conference, being held at Okura Hotel in Amsterdam.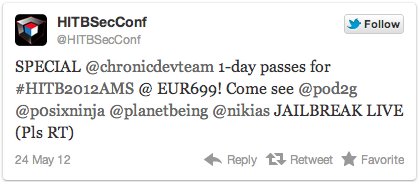 The Hack in the Box conference is a very important event that is attended by prominent security professionals from all over the globe. So it makes perfect sense that the Dream Team would be there showcasing the jailbreak goodness…
We're expecting to see a live demonstration of the new Absinthe 2.0 jailbreak tool, along with the official release. According to the HackBSecConf website, the Dream Team will present the highly anticipated jailbreak at 11:30am CET (5:30am EST) and do a live jailbreak session at 1:30am CET (7:30am EST). The agenda on the site currently says the jailbreak is for iOS 5.0.1, but were assuming that is a typo instead of iOS 5.1.1. Stay Tuned folks!
Make sure to follow us on Twitter, like us on Facebook, or add us to your circles on Google+ to be the first to hear about breaking iPhone news, tips, hacks, and more!
---
blog comments powered by

Disqus
---