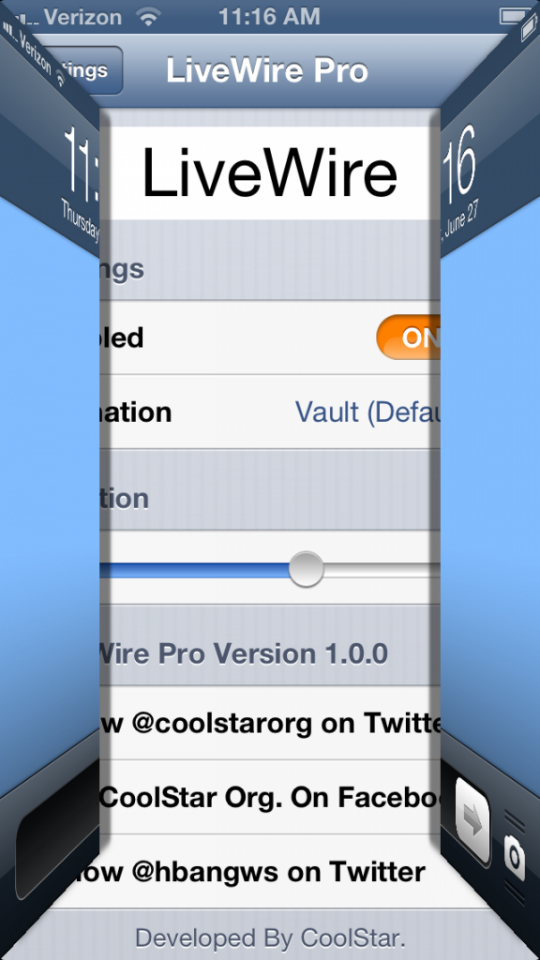 For those of you who are growing tired of sliding that arrow from left to right, here's a sweet new jailbreak tweak to add some excitement to unlocking your iPhone again. Offering a choice of different animations, an app called LiveWire Pro breathes a little life back into your lock screen.
After installing the app, you'll have full control directly from your Settings menu and from there you can fully configure your lock screen. The settings are pretty simple to use since there are only 3, a duration slider, a kill switch, and of course, the animation you'd like. This is an instant change so there is no need to re-spring for changes to take effect. The best setting seems to be the Random option so you'll receive new unlock animations each time you unlock your device.
All animations included in LiveWire Pro:
· Fade Out
· Rotate 360 & Fade
· Shrink & Fade
· Sliding Doors
· Vault
· Whirlpool
· Zoom & Fade
This is a very nice alternative to the traditional lock screen method. Most users who are already jailbroken may have heard of LiveWire that gave just the option of "sliding doors". In the Pro version, available for just .99, we have 6 more choices that can be changed with ease. Not a bad price for a different lock screen every day of the week.
Source: Cult Of Mac
Follow us on Twitter, like us on Facebook, or add us to your circles on Google+ to be the first to hear about breaking iPhone news, tips, hacks, and more!
---
blog comments powered by

Disqus
---