February 21, 2013 | Josh Bane |
Comments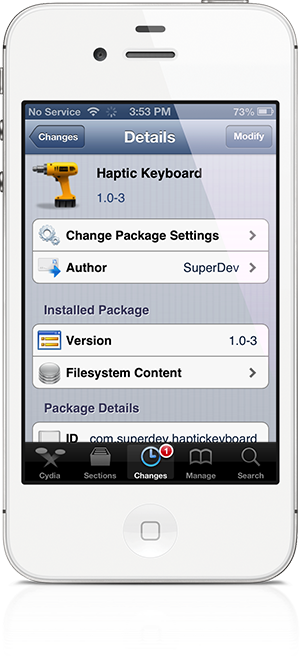 If you have ever used a different smartphone other than an iOS device such as an Android device you might have become accustomed to the vibrating keyboard options. The feature is called haptic feedback. Some devices give you the option to turn on haptic feedback anytime the screen is touched or by typing on the touch screen keyboard. iOS developer SuperDev just released a new tweak that lets you have the option to add a haptic keyboard. If you like the keyboard to vibrate while typing this hack is for you.
Haptic Keyboard is a free app in the Cydia store. The app is a basic tweak. There are no configurations or settings to mess around with. Just simply find the app, install it and let the Springboard reset. As soon as the device reboots the app does the rest. Anytime that you have the option to use the keyboard Haptic Keyboard is active.
I gave the app a little test run and the haptic feedback isn't too bad. The responsiveness works well. Sometimes the vibration seems to be longer than other key presses, but I imagine the reason is from texting at a speed the vibrations can't keep up. But it does not seem to lag in the least bit. The vibration itself is not a violent shake but in my opinion is just right. This could be a hack that I could get used to. Is a haptic keyboard an option that you like for your device?
Make sure to look around the forums to see how other users are modding and tweaking their idevices! Also, you can check out our Theme Browser and App Reviews page to see what's hot in Cydia right now. Follow us on Twitter, like us on Facebook, or add us to your circles on Google+ to be the first to hear about breaking iPhone news, tips, hacks, and more!
---
blog comments powered by

Disqus
---