Before the beloved Evad3rs team officially announced their arrival to the scene, many thought that jailbreak was dead. But when the iOS hackers gave the community some hope, anticipation for the jailbreak was like something we've never seen before.
The iOS 6 jailbreak has been the most successful and popular jailbreak of all time, with over 100,000 downloads in just the first ten minutes of its release. Only days later, and that number grew to a whopping 7 million. Now, nearly one more after Evasi0n's release, Saurik has released some stunning new stats…
Legendary hacker Pod2g passed along the info from Saurik, announcing that over 14 million idevices on iOS 6 alone are currently running Cydia: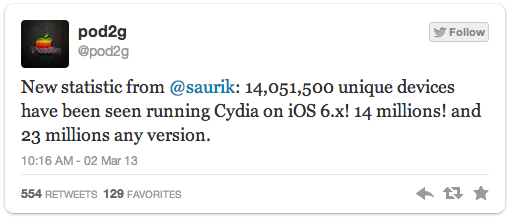 Furthermore, Saurik clarified that the "23 million" statistic is only from within the last month. So if any jailbroken devices running older iOS versions haven't been on Cydia within the past month, they aren't included. In other words, there may be even more than 23 million jailbroken devices out there.
The Evasi0n jailbreak has already survived two iOS updates, but it appears that Apple may patch the exploits in the upcoming iOS 6.1.3 software.
Follow us on Twitter, like us on Facebook, or add us to your circles on Google+ to be the first to hear about breaking iPhone news, tips, hacks, and more!
---
blog comments powered by

Disqus
---