February 5, 2013 | Chase Tillar |
Comments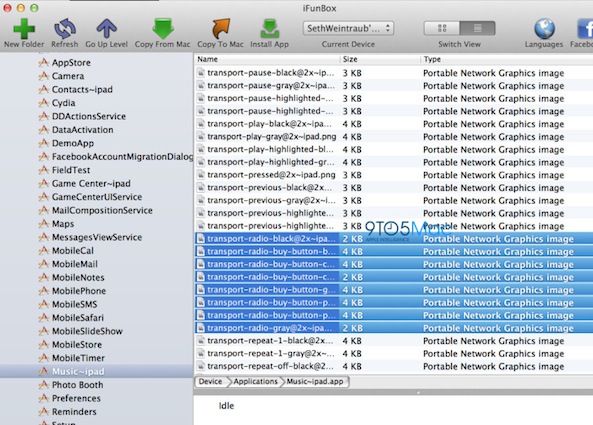 Over the past couple of months there's been talk that Apple is looking to introduce a Pandora competitor, with its own Internet radio service. Recently rumors have it that Apple is having problems getting record labels to team up with them, however don't count this service out just yet. Made possible by the iOS 6 jailbreak released yesterday, come reports that the iPad's Music app contains some "Radio Buttons" hidden deep in the operating system.
The folks over at 9to5Mac were digging through their newly jailbroken iDevices when they came across these hidden radio buttons, reporting:
"Having a look around our newly jailbroken iPads with iFunBox, we happened on a new set of files in the iPad Music.app. The files are called some variation of 'radio button' with an icon that looks similar to the radio icon that used to be in iTunes for Mac."
While this certainly sparks our curiosity on whether Apple will release its own online radio service, if it will ever become a reality is another, unknown story; and if The Wall Street Journal, The New York Times, and Bloomberg reports are to be believed, it's certainly more than a dream. However with major record labels being hesitant to team up with Apple on the service, it may be stopped at step one.
Are you hoping for an Apple alternative to Pandora?
Follow us on Twitter, like us on Facebook, or add us to your circles on Google+ to be the first to hear about breaking iPhone news, tips, hacks, and more!
---
blog comments powered by

Disqus
---