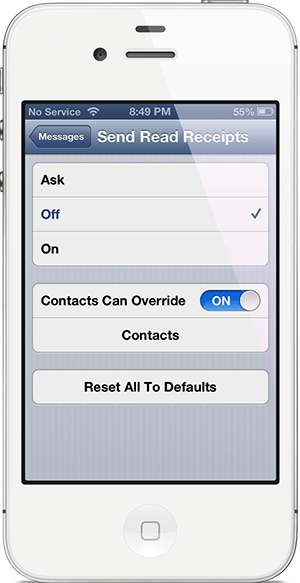 Apple has read and delivered notifications within the iMessage app that lets you know of when a text is delivered or read by the recipient. Problem is that you only have the choice to turn off the feature or keep it on. Some people love this feature and others would rather keep what they read private.
I see the benefit for both sides of the fence of whether or not it is a good thing to be able tell you if a message read and delivered or not. Personally sometimes I like the ability and other times I do not want to let someone know I read their message. Developer joedj created a nifty tweak that lets you assign the read and delivery options to certain people, not just your contacts across the board.
Not only can the tweak assign the task to particular contacts but also you can switch on a feature that asks you each time a message comes through.
With these options you can truly customize your messaging lifestyle. Not everyone needs to know if you read a message or not. This tweak is supported by iOS 5 & 6. It also works with some of your favorite messaging apps like biteSMS, Messages+ and any supported iMessage app. This tweak will only set you back $.99 in the Cydia store. Is this something that you could use?
Follow us on Twitter, like us on Facebook, or add us to your circles on Google+ to be the first to hear about breaking iPhone news, tips, hacks, and more!
---
blog comments powered by

Disqus
---