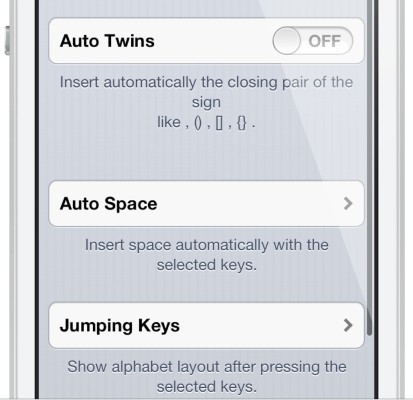 The keyboard found in iOS is arguably the best in any mobile platform, and not just from a design aspect. There is, however, always room for improvement; Most Cydia packages we see for the keyboard are for themes, but today comes a new jailbreak tweak aiming to improve the functionality of your iDevice's keyboard. Head inside for a quick overview of "The Quick Brown Fox".
After installing the tweak and accessing it, you'll be greeted with the page above. From here, the tweak gives you three different settings: Auto Twins, Auto Space, and Jumping Keys. Lets have a look at what these entail.
Auto Twins
The Auto Twins feature automatically gives you a closing pair of symbols, like brackets, parenthesis, etc., after you've typed an opened one in your text.
Auto Space
This function is pretty self explanatory, but with it, a space you will automatically be put in when you use any of symbols you've selected in the menu.
Jumping Keys
Jumping Keys is by far the best feature of this tweak. You may have noticed or not that when you type an apostrophe in iOS you're automatically brought back to the letter keys, from the symbols. This only works with the apostrophe sign, but not anymore. Now you can assign this function to any sign you want; great for fast typing of phone numbers and email addresses.
"The Quick Brown Fox" may sound like a weird name for a jailbreak tweak, or any service for that matter, but it's not as arbitrary as it looks. It's actually a play on the phrase "The quick brown fox jumps over the lazy dog", which is used for testing fonts and typing. Why? Because it contains the entire alphabet.
To pick it up, head over to Cydia to find it for free in the BigBoss repo.
Follow us on Twitter, like us on Facebook, or add us to your circles on Google+ to be the first to hear about breaking iPhone news, tips, hacks, and more!
---
blog comments powered by

Disqus
---