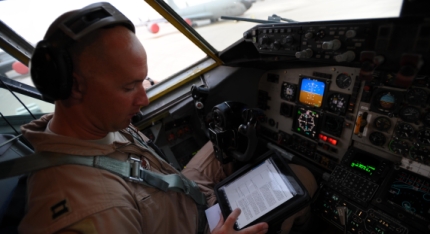 Great news out of the United States today, for Apple and citizens alike – I'm sure the environment does not mind one bit either. We just reported that the Pentagon has approved iPhone and iPad models running iOS 6 for government use, and it looks like agencies are not waiting a second to adopt the device: the United States Air Force has purchased 18,000 iPads. Better yet, this transition from outdated paper printing to tablets is going to save tons of money.
Their weapon of choice is the 32GB Wi-Fi iPad with Retina display. By making this switch the U.S. Air Force is projected to save $5.7 million a year, and that's just considering fuel and printing expenses. Furthermore, over the next ten years the Air Force could see savings of "well over $50 million" – that is according to AMC flight bag manager, Major Brian Moritz.
The benefits aren't all monetarily, of course. By ditching the use of paper for their flight manuals and other literature, by switching to the iPad, their expecting to lower weight on individual aircrafts by 90 pounds (or about 41 kilograms). The Major also mentions that this will reduce the amount of paper weight each member is expected to carry, leaving it at just 30 to 40 pounds (around 15 kilograms, respectively).
It was mentioned in the video that the iPad was the cheapest tablet that met the military's requirments, we could be seeing a bright future for Apple in the way of military contracts. All in all, this is just the latest step in moving into a paperless world, and it's nice to see the government jumping in.
Follow us on Twitter, like us on Facebook, or add us to your circles on Google+ to be the first to hear about breaking iPhone news, tips, hacks, and more!
---
blog comments powered by

Disqus
---