September 18, 2012 | Emil Kako |
Comments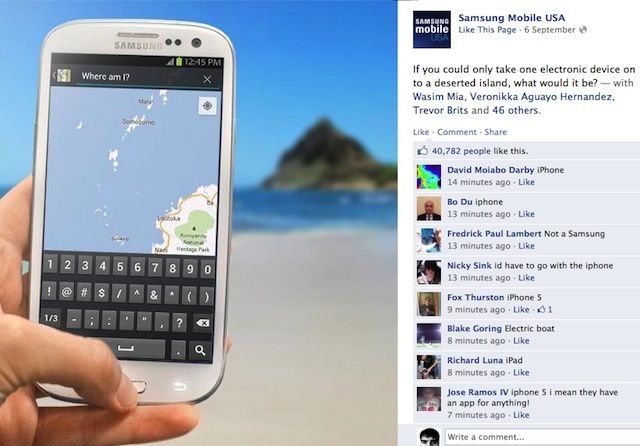 The battle between Apple and Samsung for dominance over the smartphone market has been getting more and more heated over the past couple of years. Samsung has been trying very hard to sway people away from the iPhone and onto their Galaxy S line of phones. The Korean company has been doing a whole lot of anti-Apple campaigning, which we saw an example of this past weekend with their ridiculous "It doesn't take a genius" ad.
Continuing with their anti-Apple advertising, Samsung posted a picture of the Samsung Galaxy S III on their Facebook and asked a question: If you could only take one electronic device on to a deserted island, what would it be? Well, the Facebook status definitely didn't get the response that Samsung hoped for, as the majority of the people who commented wrote "iPhone" instead of the Galaxy S III.
Frankly, the company's anti-apple campaign was desperate enough, but this is just embarrassing. This must put a huge dent in Samsung's efforts of bringing Apple down, and puts the company in a bad spot. Sure, you may think that Apple fanboys can sometimes be annoying, but I think it's evident that Samsung's efforts are a failure.
Better luck next time Sammy.
Make sure to follow us on Twitter, like us on Facebook, or add us to your circles on Google+ to be the first to hear about breaking iPhone news, tips, hacks, and more!
---
blog comments powered by

Disqus
---